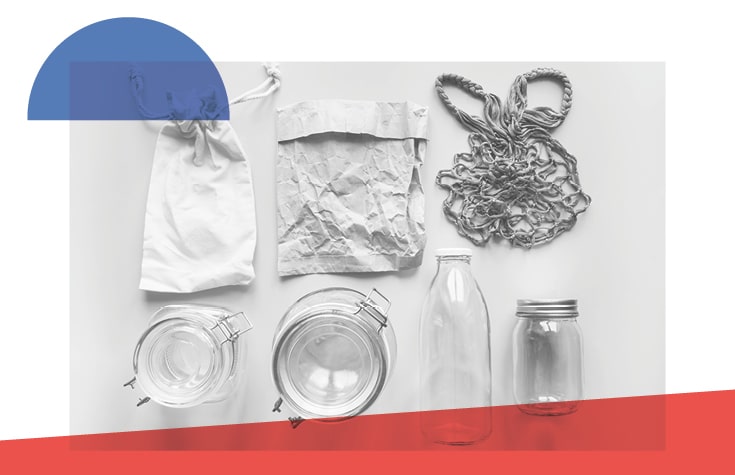 Global warming, the depletion of certain natural resources and the extinction of certain species are direct consequences of the unrestrained consumption we have been indulging in for the past many years. To remedy the situation or—at least—to try and improve the fate of the planet, some of our lifestyle habits can be changed, in the interest of responsible consumption. Here are 5 major recent trends that are now well established among Quebecers:
Abolishing single-use plastic
Only a few years ago, those who brought their reusable bags to the grocery store or to do their shopping were in the minority. Today, it is those who don't have their own bags that raise eyebrows instead! Single-use plastic bags are a real scourge for the planet, as are single-use items such as straws, coffee lids and water bottles. In addition to plastics invading landfill sites, we now find 1% of plastic waste in the environment. Plastic can cause physical damage to animals and fish and is even found in the air. Ultimately, we are the ones who ingest the plastic we dispose of in the garbage.
In recent years, many municipalities have banned the sale of plastic bags and Canada will soon ban the sale of single-use plastic. If you want to limit your plastic consumption, get cloth bags, a reusable water bottle or coffee cup and metal straws. With these simple actions, you will greatly reduce your consumption of single-use plastic.
Composting
Now that most municipalities have implemented a selective collection of organic waste, there is no reason to dispose of your table scraps, vegetable peelings and other vegetable waste in the garbage. In addition to considerably reducing the content of your garbage, composting is free and easy to do. Just have your own little bin in your kitchen and empty it regularly to quickly see all the benefits of this practice. Many cities also produce compost for gardens, which you can obtain at your local ecocentre in the spring.
Reducing your meat consumption
It is now well known that eating meat on a regular basis is a major source of pollution. This is why several alternative food trends are gaining in popularity, day after day. Whether vegetarianism, veganism or flexitarianism, everyone will find something to their liking. Even the new Canada's Food Guide encourages us to eat more legumes to replace meat and fish. If you want to reduce your meat consumption, do it gradually. The Internet is full of recipes, each one more tempting than the last, where tofu, tempeh and textured vegetable protein (also called textured soy protein (TSP), soy meat or soya chunks) will make you quickly forget about meat. You'll get a taste for it, guaranteed!
Buying locally
The pandemic has shown us the importance of encouraging local stores, including the supermarket and small businesses. Buying local creates jobs close to home, reduces greenhouse gas emissions caused by the transportation of goods and cuts down on plastic packaging generated by online purchases. Supporting local shopping also gives rise to great initiatives, such as farmers' markets and artisan fairs. For a non-exhaustive list of local businesses to encourage, visit the Panier bleu.
Participating in the sharing economy
By choosing the sharing economy, you can give a second life to items you no longer use. Platforms like Kijiji and Airbnb have shown that it is possible to consume differently. There are also groups of neighbours who want to exchange or donate goods for services or other goods. This is a good way to make community living enjoyable and convenient!
Remember to regularly weed out what you no longer need in your cupboards and closets and donate these items to Entraide diabétique du Québec. To do so, locate our donation boxes or arrange for a collection at home. This way, you will prevent your old items from going to a landfill site. Adopt one or more of the habits mentioned above and you will quickly get hooked on consuming responsibly!